Meet The Team: Freddie Bialokoz and Issa Batrane
May 12, 2022
In the run up to the Commonwealth Games this year, we want to shine a spotlight on the teams hoping to qualify.
We had a chat with Freddie Bialokoz and Issa Batrane. These two have been the talk of the courts over the last few years.
Freddie Bialokoz
Fact File
Position & Side: Right Side Blocker
Height: 204cm 6'8''
Date of Birth: 23/07/2000
Hometown: London
Tell us a bit about yourself!
Hi, I'm 21 and I was born and brought up in London. Currently, I'm studying Physics in Berlin. I also enjoy long walks on the beach.
When and how did you get into beach volleyball?
Both of my parents played volleyball, and when I started playing properly at 14 my dad suggested we start playing beach together at Crystal Palace. At the time, I was the first junior, so for a couple of years I was in the junior club.
I'm happy to say that, that is no longer the case and the junior club is thriving.
Do you have any pre-game habits/rituals?
I wouldn't say I necessarily have anything in particular, it's normally just making sure I have everything and maybe just going over the game plan.
Of all the events you've played, is there a match or tournament that stands out in your mind? Why?
I think mine is going to be pretty similar to Issa's, in that it's probably the semi-final we played on the Swiss tour against Bergmann/Harms. First of all, it was an incredible experience and the event as a whole was one of the most memorable tournaments I've played. Everything just came together, and it was probably our best win of the season.
Outside of beach volleyball, what do you do in your free time?
To be honest, I try and finish my studies. Or more realistically, play video games.
Is there a coach or athlete you look up to and why?
I would probably say my dad, having grown up going to watch him play indoors. We still try and play at least one tournament each year. That means we split block so I get to play defence for a bit, which makes a nice change.
Where do you see yourself in 5 years?
Hopefully still playing full time on the Pro Tour, and having worked our way up to Elite16s and Challengers; therefore realising what we hope to be our potential.
Is there any advice you would give to young players?
I would suggest trying to hand set as much as possible, regardless of if they get called. Hand setting makes it a lot easier for the hitter to find rhythm. It also allows you to expand your offense by being ably to vary the locations and tempos of the set more easily. Even though it may not work immediately, stick with it. In the long run it will be worth it.
Issa Batrane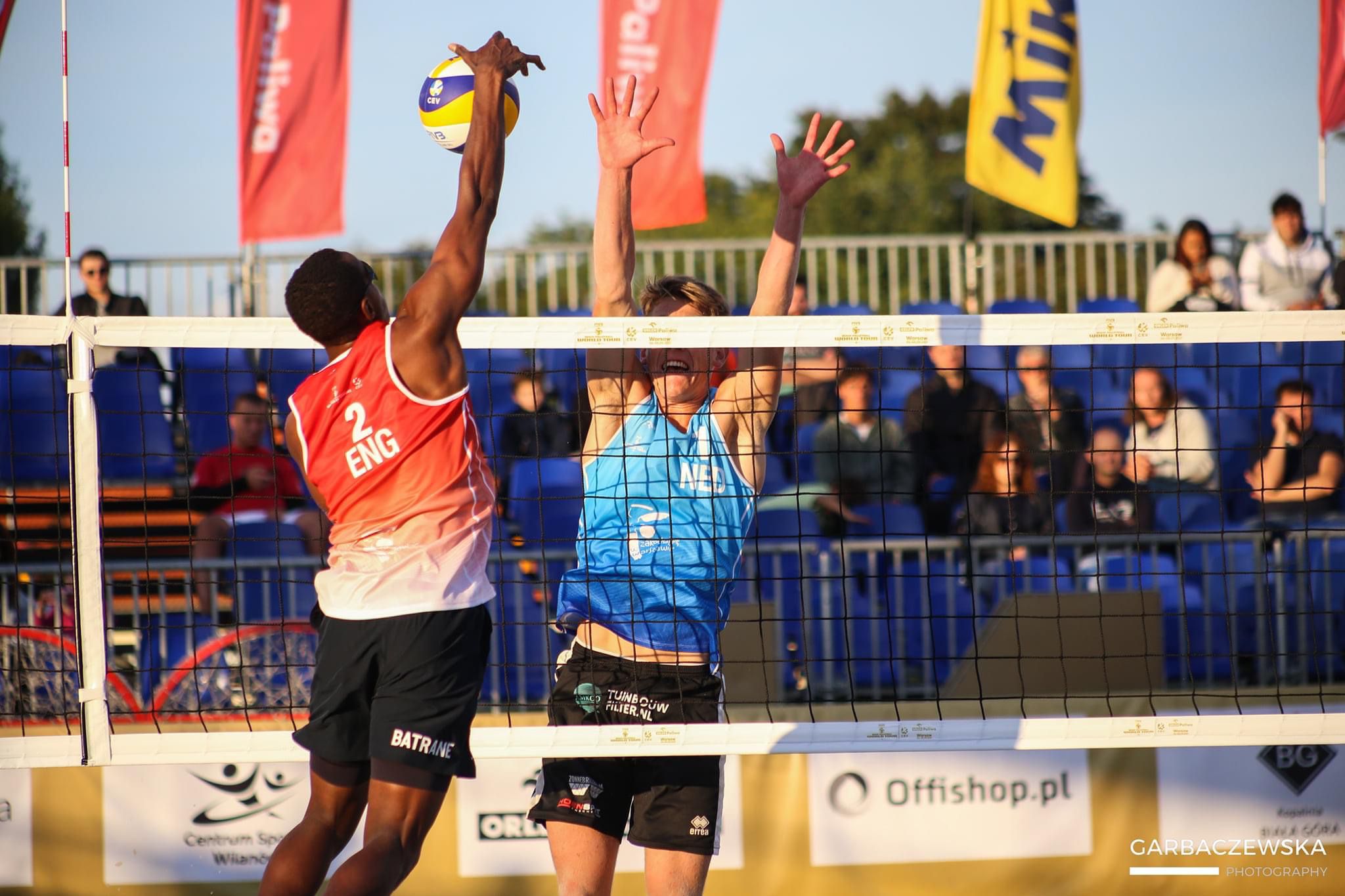 Fact File
Position & Side: Left Side Defender
Height: 178cm
Date of Birth: 09/04/1996
Hometown: London, England
He has 3 younger sisters, a dog and a big family with his mother being 1 of 13 siblings.
Tell us a bit about yourself!
I'm now 26 years old and feel a bit like the old guy on this team haha. I'm a big sports fan in general as a lot of people know already, and would describe myself as someone who is quite engaged on views to do with the environment and social issues. I'm a big family guy.
If you were to ask Freddie, I also love messing around and just joking around when travelling away on tour with each over to events.
When and how did you get into beach volleyball?
I started playing beach volleyball around 2021/13, when I really started training it at the Leaf Elite Athlete Academy in Bournemouth, England. This is where I really found a lot of love and passion for the game, because for me I just always linked beach volleyball to being in the sunshine and having a good time with friends on and around the courts.
Do you have any pre-game habits/rituals?
Not really. I just make sure I have everything that I need in my bag to have by the court.
Of all the events you've played, is there a match or tournament that stands out in your mind? Why?
It would have to be the event on the famous Swiss COOP Tour in Rorschach, Switzerland, and our semi-final match against the German team of Bergmann/Harms. It was our first time playing on this tour and against a top team from Germany like this. We played really good volleyball, were patient and just executed what we needed to win this semi-final 2-0.
For me personally, this match stood out because it was on Lake Constance and in an amazing arena that almost feels like the fans are collapsing on top of you in there. Freddie will also vouch that I built a cult fanbase in this town on Rorshach, having built some great relationships with the local kids from the town who took an eye to supporting our team - even when we were playing against the Swiss teams.
Outside of beach volleyball, what do you do in your free time?
Volleyball takes up a lot of my time, but when I'm away from the game I enjoy getting up other activities like exploring new places, as well as different types of food. My family and my amazing dog is definitely something that takes up a lot of my free time, because I am close to them and always want to find time to see and be with them to catch up on all that has been going on as well as kicking it with a few of my really close friends.
Is there a coach or athlete that you look up to and why?
It's difficult to really pin this down to just one person, purely because I've worked with so many amazing coaches and had the opportunity to watch and even play against so many amazing players. In all honest, to some extent I look up to everyone because there are always opportunities to learn from people both in volleyball and through life experiences with how someone might carry themselves in different scenarios.
Where do you see yourself in 5 years?
Being a successful team on the Beach Volleyball Pro Tour, whilst hopefully continuing to leave an impact on the game of beach volleyball in the UK.
I also see myself continuing to help educate and be an activist for those tackling environmental and social issues.
Is there any advice you would give to younger players?
For me, the best advice I could give from personal experience is that you should always give your everything. Even if people think or tell you that you might not be able to do it, double down on yourself and make a plan about how you will be successful in what you want.
Also remember that there are going to be experiences that you enjoy and some not so much. But always see it as an opportunity to learn and grow from, because life has a strange way of putting you on a path to where you need to be, even if you don't see it at the time.
Team Questions
Social media handles : @fbialokoz @issabatrane @beachteambb
Describe your team in three words.
Explosive/Athletic.
What would you say is your team's super strength?
We would say our athletic ability as a team, as well as our understanding of the game in order to breakdown teams.
How long have you been playing together?
We teamed up in September 2019 just before Covid, and our first international events were in Summer 2021.
What would it mean for you both to reach the Commonwealth Games?
It would be an awesome experience to compete in a home game at the 2022 Commonwealth Games in Birmingham. An opportunity to push our level and perform in front of our friends and family, as well as continue to grow as a team.
Of course we would be really happy to represent our country there, but we would also bring laser focus like we do with any other event on the international circuit to try an bring our best game and get the result we want.
The Commonwealth Games Qualifier Tournament will commence on the 26th of May, and we're looking forward to seeing these fantastic blokes take the court by storm.
Check out our learning plans now for all you need to master beach volleyball.
Find Out More
Stay connected with news and updates!
Join our mailing list to receive the latest news and updates from our team.
Don't worry, your information will not be shared.
We will never sell your information, for any reason.